Custom patio and shed installation Bunbury
Personalised and guaranteed high-quality
Sheds and patios to suit your home and your
lifestyle

.
Have you been scrolling on Pinterest or flicking through landscape magazines wishing your home 'looked like that'? At TKL, we specialise in sheds and patios to enhance your living space, with practical, functional solutions that add value and appeal to your home.
Working with you to understand your vision allows us to create the perfect design for your home. Whether you enjoy relaxing in the cabana next to your pool, sneaking away to your 'man cave,' or impressing your guests with an electric patio roof, we've got you covered. Literally!
Patios

and alfresco areas.
Living in Western Australia, we love entertaining family and friends during the warmer seasons. Ensuring you have sufficient shade from the harsh Australian sun is vital for UV protection.
Whether you want a free-standing deck, pergola, custom alfresco area, or something more ambitious like an automatic roof on your patio, our experienced design team will help bring your vision to life. When summer comes around, you'll be ready to sit back and enjoy the great outdoors.
Our team has years of experience designing and constructing high-quality sheds with an emphasis on functionality, durability, and style. From a standard shed for your gardening equipment and tools to a completely unique design that suits your needs, TKL are the experts for your next shed project.
You can choose from a variety of materials, including fibre-cement sheeting, timber, or composite cladding. You will feel confident knowing all the products and materials we use are of the highest quality.
Bring your vision to life!
Your new TKL shed, alfresco, or patio can be anything you want it to be; a 'man cave' for you and your friends, a home brewery for your next beverage masterpiece, a custom-built BBQ area, or a tropical cabana adding holiday vibes to your pool area.
At TKL we specialise in custom jobs to help bring your vision to life; the only limit is your imagination.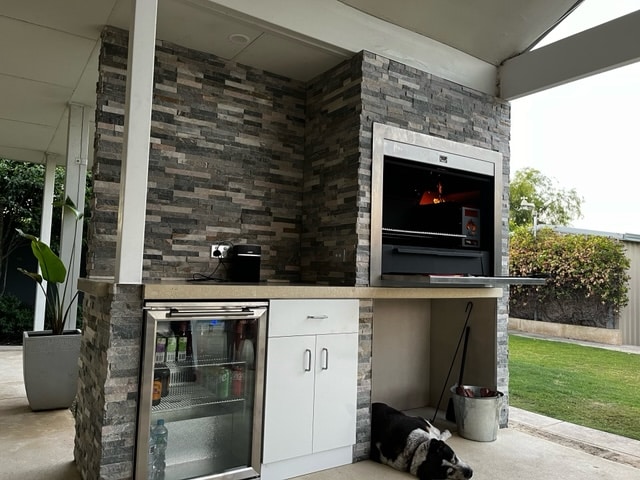 For difficult areas where our machinery may not access, we have a strong workforce of men and women who love a challenge!
High-end quality and finish that will last for years to come.
Project-managed from conception to completion.
Unparalleled reputation in the South West.
Industry leaders in outdoor renovations.
Highly qualified and experienced team.
All-inclusive outdoor renovations.
Friendly, no hassles service.
"An amazing team that listens to what the client wants. Luffy is so down to earth, and Chantelle is so lovely to talk to and responds to your emails can't wait for more work to be done by this sensational team!"
"I found TKL Contractors professional and considerate of their clients' needs. I would highly recommend this business to anyone!"
"Top notch job! TKL came up with innovative ideas, did not overcharge, and I got more than my monies worth. Detailed quotes, never stray from quote unless they discuss ideas with customers. Work force are all happy cheerful and treat customers with respect. Plus, they clean up after job is finished, wow-wee that was a real bonus."
Make your dream outdoor area a reality!
The short answer is yes.Smaller sheds (under 10m
2
) like garden sheds do not require a permit in most local shires. Patios/gazebos (under 20m
2
) that are not attached to an existing structure, or dwelling with an open roof, do not require a permit in most local shires. Anything other than these two exceptions
do
require engineering and a permit. TKL Contractors can complete this process for you as a part of your project.
TKL Contractors work with a number of suppliers and engineers to ensure you get what you want. Your design is only limited by your imagination (and perhaps budget) but can include cladding, brick, steel, timber etc.
Get started

on your next project!
Let's Talk! Contact us for your next outdoor project with a no obligation quote.
Complete the contact form, email or call us today.